-
¿Qué es Freddie Por Un Día (Freddie For A Day)?
Freddie Por Un Día es una celebración de la vida de Freddie Mercury que se conmemora en torno a su fecha de cumpleaños. Su intención es hacer que el público recuerde a uno de los más grandes artistas en forma divertida, aunque detrás de eso existe además un propósito serio: recaudar fondos para apoyar la labor continua en la lucha contra el VIH/SIDA que realiza en todo el mundo la Mercury Phoenix Trust, la organización caritativa creada para tal efecto en memoria de Freddie, poco después de su muerte hace ya casi 20 años.
Fuente: FFAD
-
-
28 de julio 2011


-




¿LISTOS PARA VESTIRSE COMO FREDDIE?
Evento para conmemorar el cumpleaños 65 de
Freddie Mercury
sumándose al evento Freddie For A Day,
a beneficio de The Mercury Phoenix Trust

Lugar: The Savoy, Londres
Fecha: Lunes 5 de spetiembre
¡no olviden su bigote!
Nota completa :
AQUÍ
-
29 de julio 2011


-




FANS DE FREDDIE MERCURY FANS SE CARACTERIZARÁN COMO SU ÍDOLO PARA CONMEMORAR SU CUMPLEAÑOS 65



DAILY MIRROR
29/07/2011
Por: Simon Boyle
-

AMIGOS y allegados del legendario vocalista de Queen, Freddie Mercury se preparan para caracterizarse como él , incluso con el inconfundible bigote, a fin de conmemorar el que hubiera sido su cumpleaños 65. Entre los invitados se encuentran sus colegas Brian May y Roger Taylor, quienes asistirán al evento que se llevará a cabo en el Hotel Savoy en Londres, el 5 de septiembre a fin de rendir tributo al cantante, quien falleció en 1991 a al edad de 45 años (por complicaciones derivadas del SIDA). El evento será el acto más relevante de la campaña mundial bajo el nombre "Freddie For A Day" (Freddie por un Día) , misma que inició el año pasado y que en este 2011 espera cientos de fans caracterizados como Mercury se sumen a esta causa (para recaudar fondos destinados a apoyar a la Mercury Phoenix Trust).

Hace sólo dos meses, los amantes de la música lo eligieron en una encuesta como el Icono del Rock de Todos los Tiempos , superando a figuras como Elvis Presley, David Bowie, Jon Bon Jovi y Jimi Hendrix.

Se exhorta a los fans a unirse a este evento , adquiriendo en el sitio freddieforaday.com el producto más reciente: un bigote estilo Freddie, los fondos recabados se donarán a la fundación de lucha y concientización sobre el VIH/SIDA, la Mercury Phoenix Trust.

-

-
-
COMUNICADO DE PRENSA :

QOL
-
-
-Mensajes relacionados:
-
-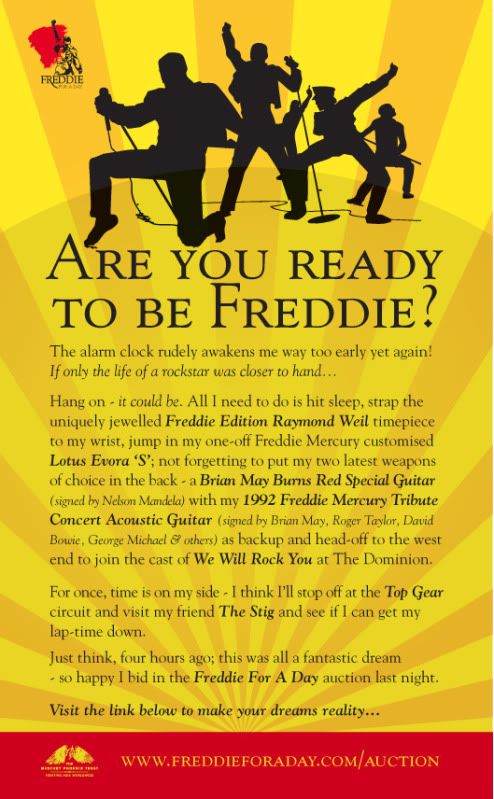 -
Artículo de FFAD
en The Guardian por la hija de Jim Beach , quien coordina la campaña y está a cargo del sitio FFAD para la Fundación Mercury Phoenix (Trust) , Matilda Beach. 22 de agosto
Anuncio
en el Financial Times
20 de agosto
Y como saben,
el obetivo primordial del Freddie For a Day es recabar fondos para la MPT y apoyarla en su lucha contra el SIDA
, he aquí el enlace para una subasta al respecto:
www.bandstores.co.uk
QOL
19 de agosto
-
FREDDIE FOR A DAY:
CONCURSOS
(boletos para el evento en el Savoy,Londres)
brianmay.com
9 de agosto 2011
-
-
-
Taza para ser
"Freddie for a tea break"
, y playera ganadora del concurso de Talenthouse, nuevos productos en la
tienda del sitio FFAD
, al comprarlos Tte unirás a la campaña FFAD y por ende apoyarás a la Mercury Phoenix Trust vía tu donativo.
Fuente
QOL
23 de agosto del 2011
-
-
Actualización 18 de agosto
Universal Music Austria
y el Club de Fans de Queen en Viena
celebrarán el cumpleaños 65 de Freddie y se unen a FFAD con un magno evento.
brianmay.com
18 de agosto
-
FIESTA TRIBUTO A FREDDIE DEL
CLUB DE FANS DE QUEEN EN AUSTRIA
3 de septiembre
brianmay.com
9 de agosto del 2011
-
FREDDIE FOR A DAY
5 DE SEPTIEMBRE
-